All You Need is Love: Valentine's Day Beers
Valentine's Day is almost here! Love is in the air and beer is in your fridge. And if you're looking for the perfect brew to celebrate the holiday, we've rounded up a handful of amazing beers and ciders that are inspired by our love for our local breweries.
This year match your candle lit dinner with something beside wine, or settle down to for a cozy evening by the fire with a winter warmer, or buy a chocolate stout bouquet to match the flower bouquet. The possibilities are endless!
Can't decide which craft beers to try? We have you covered with a list of fun and unique brews that are ideal for sharing with that special someone. Don't believe us? Try them yourself.
14 Beers To Try This FeBREWary
Stone made this brew specifically to be enjoyed by Valentine's Day. Still a hop-lovers dream with the added bonus of a cup of coffee and a bite of chocolate, this IPA clocks in at 9.4% making it the perfect bottle to split with someone special — or to drown your sorrows if you're spending the day alone.
With wonderfully bitter citrus notes, resinous hop aromas and earthy overtones, Smitten doesn't leave a lot of room for you to wonder if you'll love it. Paired with the right heartfelt card, this 6.0% Rye Pale Ale can be just what you need to take your relationship to the next level.
La Folie pours a rich mahogany, with a fruity, sour note you usually only taste in wines. This wood-aged, sour brown ale is sharp and sour, full of green apple, cherry, and plum-skin notes. It's best enjoyed in a hot tub beneath the stars, if you can work that into your plans.
Angry Orchard Rosé Cider is made with rare, red flesh apples from France. Each apple is crisp, juicy and red to the core, adding an irresistible rosy blush and apple-forward taste with a refreshing dry finish. This drink is perfect for a sweetheart that might not enjoy the heavier tastes of beer on Valentine's Day.
If wine-like cider and beer aren't your thing, try Black Chocolate Stout from Brooklyn Brewery. Coming in at 10.0% APV, this imperial stout's roasted cocoa and coffee flavors pair well with all the brownies, cookies, and chocolates you're going to eat anyway.
Start your foreplay with a bottle of Stoudts IPA. This brew's full bodied malt backbone perfectly compliments the abundance of a hop flavor. Drink in abundant passion and find subtle pairings of resin and coconut, citrus and chocolate.
Lovely, dark, and deep; like eyes that have captivated you for so long. Flavors of rich chocolate milk, coffee and cream are impeccably balanced with restrained sweetness and roastiness. It's smooth, creamy love for the palate.
Brewed with over 200 pounds of Belgian dark chocolate, this deep dark beauty will tantalize and seduce you with its roasty maltiness. As each sip dances about your taste buds, you may even pick up hints of vanilla and caramel. But one thing's for sure—you'll definitely feel the love.
Bring a different sort of flower bouquet to your date this year. A six-pack bouquet of Jasmine IPA has got to go over pretty well, even for those purists' of Valentine tradition. The sweet scent of jasmine, combined with hops, wafting off the top of a freshly poured glass is irresistible.
This lovely stout is brewed with vanilla beans and caramelized sugar that packs an intense brown sugar kick. Be sure to quaff this one slowly, and notice how the flavors develop as the beer warms. Sweet, creamy and uncannily true to the namesake dessert.
Allowing for a fruit-forward cider bursting with rich notes of blackberry, this cider has a distinctive tartness and touch of sweetness on the finish that will make you reminisce all your relationship over the years. This enjoyable union of flavors will undoubtedly keep you going back for that next sip.
Excite your senses with a sharp, sweet burst of fresh cherries. Sublime and effervescent, this bold and bright session ale has an enticing cherry-fruit character. Kirsch Gose pairs well with long walks on the beach, candlelit dinners, big comfy beds, cabins with fireplaces, and scenic overlooks.
Made with imported Dutch bittersweet chocolate, its earthy flavor of oats and hops that gives way to a rich chocolate truffle finish. This stout has a velvety texture and rich, smooth finish that makes you never have another chocolate bar again.
This Belgian-style IPA is a perfect post-breakup beer regardless of your gender. Its sweet malt body is contrasted by pine and grapefruit hop flavors and exotic fruit notes from the Belgian yeast. We humbly suggest that you use this libation to proclaim your love for yourself.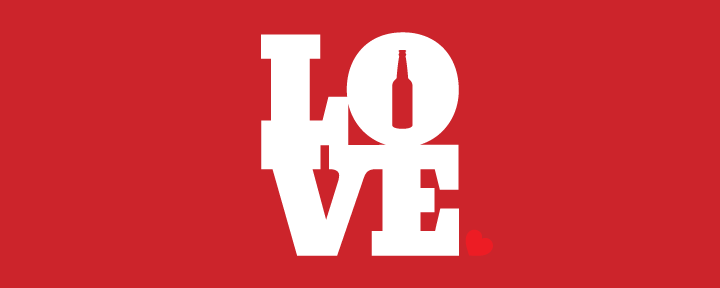 Hoppy Valentine's Day!
*image courtsey of PaprikaPaperie [etsy.com]