Black Chocolate Stout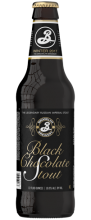 If wine-like cider and beer aren't your thing, try Black Chocolate Stout from Brooklyn Brewery. Coming in at 10.0% APV, this imperial stout's roasted cocoa and coffee flavors pair well with all the brownies, cookies, and chocolates you're going to eat anyway.
Malts: 2-row, caramel malt, malted wheat and a blend of American roasted malts
Hops: Willamette and Fuggle
ABV: 10.0%
Food Pairings: Chocolate desserts, passionate love and rage in front of a blazing fireplace, cheesecake, fruit tarts, big ol' blankets, ice cream, holiday parties, strong cheeses, and mythology.