Kirsch Gose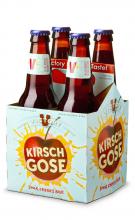 Excite your senses with a sharp, sweet burst of fresh cherries. Sublime and effervescent, this bold and bright session ale has an enticing cherry-fruit character. Kirsch Gose pairs well with long walks on the beach, candlelit dinners, big comfy beds, cabins with fireplaces, and scenic overlooks.
ABV: 4.7%
Malt: Pilsner, Wheat, Torrified Wheat, Acidulated
Hops: Spalt Spalt
Flavor
Pours a ruby to light red with white foam. Aroma of fresh sour cherries with flavors of tartness, intense rounded cherry character, and a refreshing salty character. Crisp carbonation and light body are both combined into a thirst quencher.