Flying Dog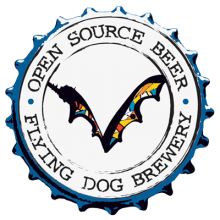 Nobody had ever connected the words "flying" and "dog" together...until 1983, when George Stranahan was itching for an adventure. He decided to climb Pakistan's "Savage Mountain," the second highest, deadliest mountain in the world. Yet to George, the largest disaster he faced was that "on day 17 of a 35-day trip, we totally ran out of booze." He went back to the hotel and caught sight of a fateful painting.
As George describes it, "It was a full-on oil painting of a dog. A beautiful oil painting, big, nice. And the dog was like…well, he had left the ground. Here we were, the March of the Innocents and this 'Flying Dog,' and the weirdness of it all. And the combination of the words 'Flying Dog' stuck with all of us, but particularly for me. They fit together in some way. I don't know how it makes sense, but it makes sense."
In 1990, George founded the Flying Dog Brewpub in Aspen, Colorado. From that brewpub to a full-fledged Denver brewery in 1994, and then to the current state-of-the-art brewing facility in Frederick, Maryland, Flying Dog continues to make sense.