Southern Tier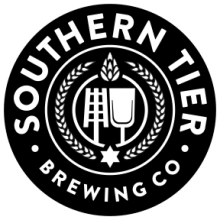 Southern Tier Brewing Company of Lakewood, New York, has grown to produce more than 100,000 barrels of beer annually. The hand crafted ales are now available in more than thirty States and points beyond.
Founders Phineas DeMink and Allen "Skip" Yahn started the brewery with the vision of reviving the practice of small batch brewing to a region rich in brewing tradition. In 2002, with equipment gained from the purchase of the Old Saddleback Brewing Co. in Pittsfield, Massachusetts, the Southern Tier Brewing Company began production in the Stoneman Business Park just outside of Lakewood, New York. By 2003, select varieties of small batch ales were locally distributed, and by 2005, sales covered the majority of New York State and Pennsylvania. Before launching a successful roster of seasonal beers, the brewery produced Pilsner, Mild Ale, and India Pale Ale.
Southern Tier immediately garnered regional attention and demand for the product quickly outgrew what their modest facility could handle.  In 2009 a new 20,000 square foot building was built for the purpose of brewing innovative, high-quality beer to accommodate an expanding customer base. In this new facility, the small brewery was able to grow and offer the product both nationally and internationally, while still satisfying its loyal fans.
Steadily growing, throughout 2010 it became clear that more beer needed to be produced to satisfy a growing customer base. 800 barrels of fermentation vessels were added to the production area and a 7500 square foot addition was added for use as a conditioning room. The constantly running brew house has also been expanded and updated from 20 BBL to a 50BBL system. In keeping pace with the expanded brewing capacity, the company replaced its bottling line with the most high-tech, state of the art bottling line of its size in North America. It fills, caps and labels an impressive 10,000 bottles per hour at full speed. Our cellar was expanded to allow for more than 3200 BBL of fermentation space as of late 2011 and then again in 2012 to more than 7200 BBL.
In 2012 our new brewhouse installation began and wrapped up in early 2013. The first liquid began flowing through the 110 barrel Steinecker brewhouse in March of 2013.  Built in Germany, we actually assembled the building around the new brewhouse. Overlooking the new brewhouse is a tasting room and the ending point of our Saturday afternoon tours. With 14 fresh draught lines, it is a pleasant place to enjoy samples of our many beers.
The autumn of 2013 has seen more construction on our expanding campus. A 45,000 sq. ft. warehouse and distribution center is rapidly being built as well as a wastewater treatment facility.
Onward.