Bold Rock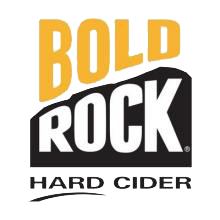 Bold Rock is distributed throughout Washington D.C., Maryland, Delaware, Pennsylvania, Virginia, West Virginia, Tennessee, North Carolina, South Carolina and Georgia. Bold Rock's original location is at their rustic Cider Barn in Nelson County, Virginia and their Mills River Cidery in North Carolina.
Bold Rock holds the record for largest privately owned cidery. They are also the ranked the 7th best selling cider in the United States being just distributed in 10 states against national brands that are in all 50 states. Their two best selling ciders are Apple (Granny Smith-style) and IPA Cider (India Pressed Apple).
But what's the best thing about Bold Rock? The taste, of course! They are generally half the calories and sugar from other ciders, giving it a more clean and flavorful taste!