Ommegang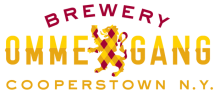 Brewery Ommegang is a Belgian-style brewery in Cooperstown, NY. Ommegang creates award-winning Belgians (Hop House, Witte, Rare Vos, Hennepin, Abbey Ale) as well as creative blends (Three Philosophers) and the fey Gnomegang (a blonde "known to attract gnomes and curious friends"). 
The brewery is well-known for its series of Game of Thrones-inspired beers, such as Three-Eyed Raven and Iron Throne.  
Founded by Don Feinberg and Wendy Littlefield, Ommegang began brewing in 1997. Brewery Ommegang currently distributes its beers in 44 states and Washington, D.C.