ShureLine Electrical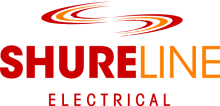 A recognized industry leader, ShureLine Electrical got its start in February of 1997 headquartered in Kenton, Delaware after joining forces with ShureLine Construction.  The owners, possessing decades of electrical contracting expertise and business savvy, expanded operations into what now includes 3 statewide locations headquartered in Smyrna, Delaware.
Unique to other electrical contractors, ShureLine Electrical encompasses full service capabilities including Residential, Commercial, Industrial and Service expertise.  Partnership with ShureLine Construction also accredits them with a division to include steel fabrication and erection, as well as an industrial pipe division.
ShureLine Electrical maintains a philosophy of One Team, One Goal which translates throughout the organization including customer service that is second to none. We are fully equipped with many vehicles providing emergency service 24 hours a day 7 days a week at NO "extra" charges. Additional features include the far reaching service capabilities expanding nationally including the following states:
Florida ~ Georgia ~ Delaware ~ Pennsylvania ~ Maryland ~ New Jersey
Ohio ~ Virginia ~ West Virginia ~ Kentucky  ~ New York ~ and expanding
Dedicated to philanthropic endeavors; ShureLine Electrical devotes endless hours and contributions as active participants throughout the community.  Among many charitable undertakings, we have partnered with organizations such as the Delaware Breast Cancer Coalition, Paws for Life, Faithful Friends Animal Shelter, the Alzheimer's Association of Delaware, and Central Delaware Habitat for Humanity.