A-1 Sanitation Service, Inc.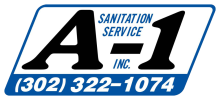 A-1 Sanitation Service provides sanitation services including portable toilet rentals, septic and grease trap pumping, storage container rentals, and temporary holding tank and water systems to residential and commercial properties.
Anthony Smiertka Sr. (Sonny) established A-1 Sanitation Service Inc. in 1969. He started the business with $50 and a dream to provide a better living for his family. The name A-1 was chosen because of it's meaning.
'A-1' is an expression that means excellence, and we strive to measure up to our name by treating our customers with the same fairness and respect that they have been giving us for so many years. We believe not only in prompt service, but quality service as well. Our quality service is what sets A-1 apart from the rest.