14 Beers for You & Your Sweetheart
Valentine's Day is almost here! Love is in the air and beer is in your fridge. And if you're looking for the perfect brew to celebrate the holiday, we've rounded up a handful of amazing beers and ciders that are inspired by our love for our local breweries.
This year match your candle lit dinner with something beside wine, or settle down to for a cozy evening by the fire with a winter warmer, or buy a chocolate stout bouquet to match the flower bouquet. The possibilities are endless!
Can't decide which craft beers to try? We have you covered with a list of fun and unique brews that are ideal for sharing with that special someone. Don't believe us? Try them yourself.
14 Beers To Try This FeBREWary
A rich, complex English-style porter brewed with a variety of malt: chocolate, caramel, black, and roasted barley. Authentic vanilla is added after fermentation which gives the beer yet another layer of complexity. It's best enjoyed in a hot tub beneath the stars, if you can work that into your Valentine's Day plans.
This limited release beer, mixes fermentation beer that was then put into spent Bourbon County Stout barrels. Hints of oak, dried cherry, chocolate, and graham cracker, this Belgium Style Ale clocks in at 5.8% APV making it the perfect bottle to split with someone special — or to drown your sorrows if you're spending the day alone.
Aged in oak with wild yeasts and bottle conditioned, iO Saison is a unique creation brewed with rose hips, rose petals and hibiscus giving this beer a character and color all it's own. This very vibrant, bright, rose-colored Saison has floral and spice notes mixed with hints of tartness from foeder aging and the hibiscus flowers.
If wine-like cider and beer aren't your thing, try Black Chocolate Stout from Brooklyn Brewery. Coming in at 10.0% APV, this imperial stout's roasted cocoa and coffee flavors pair well with all the brownies, cookies, and chocolates you're going to eat anyway.
A legendary blend of soured Bourbon Barrel Quad and a Flanders-style sour red aged in previously used whiskey barrels, Love Child No. 6 doesn't leave a lot of room for you to wonder if you'll love it. Pouring a golden color, Love Child No. 6 opens with aromas of lemon, tart cherry and under-ripe strawberry with a touch of oak. 
The Muse is a bubbly, effervescent cider made from culinary and bittersweet apples and aged on French oak. It is sweet upfront with a juicy apple aroma and bright acidity with notes of clove and vanilla, and slightly drying on the finish. This drink is perfect for a sweetheart that might not enjoy the heavier tastes of beer on Valentine's Day.
Love coffee? Chocolate? You'll taste notes of both in this dark, complex beer. It's a little boozy at 8.3% APV, but not sleep-inducing. Pair a glass with some fresh strawberries for a simple dessert on Valentine's Day.
If you're looking for a no-frills coffee and chocolate-forward brew, then Love is all you need. As each sip dances about your taste buds, you may even pick up hints of vanilla and caramel. But one thing's for sure—you'll definitely feel the love... But if Love isn't enough, the beer happens to pair perfectly with oysters.
Start your foreplay with a bottle of Stoudts IPA. This brew's full bodied malt backbone perfectly compliments the abundance of a hop flavor. Drink in abundant passion and find subtle pairings of resin and coconut, citrus and chocolate.
Our second choice from Goose Island on this list, Sofie is a Belgian farmhouse ale that's been aged in wine barrels. It's another Valentine's Day option that has a wine-like feel: bubbly with a Champagne color. There's some orange citrus notes as well as some vanilla from the barrel aging. It's a farmhouse ale, so there's some barnyard funk in there, too.
This classic is perfect for the outdoorsy couple that'd rather spend time beside a campfire than a fireplace. It's a Belgian wheat beer with spices and orange peel. White pairs well with long walks on the beach, candlelit dinners, big comfy beds, cabins with fireplaces, and scenic overlooks.
Allowing for a fruit-forward cider bursting with rich notes of blackberry, this cider has a distinctive tartness and touch of sweetness on the finish that will make you reminisce all your relationship over the years. This enjoyable union of flavors will undoubtedly keep you going back for that next sip.
Great Lake's 30th anniversary release offers a no-shucking alternative to the traditional stout-oyster coupling. That's because the beer is brewed with freshly harvested East Coast oysters. You'll experience the dark, roasty notes of an imperial stout along with a subtle brininess in a single sip. 
This Belgian-style IPA is a perfect post-breakup beer. Its sweet malt body is contrasted by pine and grapefruit hop flavors and exotic fruit notes from the Belgian yeast. We humbly suggest that you use this libation to proclaim your love for yourself.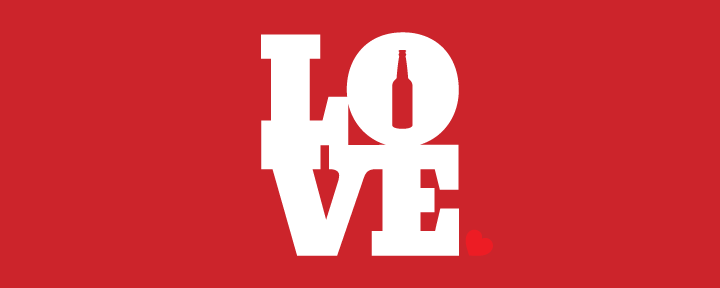 Hoppy Valentine's Day!
*image courtsey of Rohrbach Beer Hall & Brewery [etsy.com]