Great Lakes Brewing Co.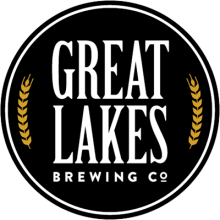 Great Lakes Brewing Company is a principle-centered, environmentally respectful and socially conscious company committed to crafting fresh, flavorful, high-quality beer and food for the enjoyment of our customers. We aspire to maintain our status as the premier craft brewery in the Great Lakes region and are dedicated to uncompromising service, continuous improvement and innovative consumer education.
The History 
Two Irish brothers with limited brewing experience. A city that shuttered its last production brewery in the early 80s. A neighborhood in serious need of a facelift. In 1986 when Patrick and Daniel Conway opened their fledgling operation in Cleveland's Ohio City neighborhood, the odds were stacked against them.
Fortunately, they surrounded themselves with a staff of passionate, knowledgeable people, and from the start committed themselves to bringing a sophisticated, diverse selection of craft beer to their home state. Two decades, multiple awards, and a whole lot of stories later, Pat and Dan Conway celebrate over two decades of brewing exceptional beer for their adventurous and discerning customers.