Jolly Pumpkin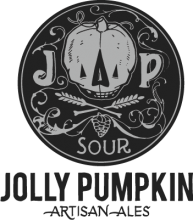 Jolly Pumpkin Artisan Ales is an all sour oak brewery that uses old-world brewing methods to create traditional rustic country style beers.
The History 
Jolly Pumpkin Artisan Ales. Seems people either love the name or don't understand it. People always ask "where did the name come from?"
The name came from the eclectic brain of Ron Jefferies and his love of Halloween.
Ron is responsible for Jolly Pumpkin Artisan Ales brewed in Dexter, MI. As brewmaster, Ron's goal is worldwide recognition as a brewer and creator of beers of outstanding art and grace. He is a philosopher of all things beery, and an outspoken advocate of the slower, finer life. Ron began studying brewing science in 1991-ish with one eye always towards opening his own brewery. He began brewing professionally in 1995, and quickly became a well-known and respected brewer in Michigan's emerging craft beer scene. Driven and dedicated, he progressed from brewer, to craftsman, to artist, and most recently to philosopher and visionary. Beginning to learn to step back, and decelerate the hectic pace of modern life to a slower, more livable, more enjoyable walk, he learned to smile and laugh. Ron was finally able to open his own brewery, Jolly Pumpkin Artisan Ales, in the summer of 2004. Running Jolly Pumpkin, Ron now practices the art of "Hawaiian time," full time.