Hearts & Hops: Valentine's Day Beers
Valentine's Day is almost here! And if you're looking for the perfect brew to celebrate the holiday, we've rounded up a handful of amazing beers and ciders that are inspired by our love for our local breweries.
This year match your candle lit dinner with something beside wine, or settle down to for a cozy evening by the fire with a winter warmer, or buy a chocolate stout bouquet to match the flower bouquet. The possibilities are endless!
Can't decide which craft beers to try? We have you covered with a list of fun and unique brews that are ideal for sharing with that special someone. Don't believe us? Try them yourself.
14 Beers To Try This FeBREWary
A new spin on an unusual flavor, Terrapin's first Gose is kettle soured for a tart, but refreshing beer. This beer is perfect for transporting you to the perfect for a hot summer day.
Green Flash kicked it up a notch by adding a tropical twist to this refreshing ale. Every sip is jaw-dropping, mouth-watering goodness. Here's the kicker, this beer always finishes smooth with a sweet, tart, fruity flavor.
Much like a rosé wine, this cider is fruit-forward with a crisp berry finish . The apple base is a vibrant fresh finish akin to the wine counterpart.
Lord Hobo creates a good balance of complex citrus and earthy hops with this beer. You'll feel like royalty after you drink 'Glorious'.
Sample some of the best crisp and slightly sweet wheat beer in New York. Perfectly balanced, light bodied and raspberry tart, this pale ale is ready to take on the world one bottle at a time.
After a hard day at work you never want to choose between chocolate and beer to unwind. So why not have both? 
Taste the tropical with this Grapefruit IPA. If you're a fan a bold flavor and a hoppy, tart finish, this is the beer for you.
'PYNK' combines sour and sweet cherries and raspberries to each batch for a tart berry ale that will delight your palate. Yards donates 1 dollar from every case and 5 cents from every pint of 'PYNK' sold to breast cancer research and awareness. 
Can't decide on your favorite fruity cider? Try them all at once with this 'Fruit Salad Cider'. Rogue mixed apples, pears, marionberries, peaches, cherries, plums, and apricots into one smooth drink.
This stout has a velvety texture and rich, smooth finish that makes you never have another chocolate bar again. Salty dark chocolate has never tasted better.
Take on a new bold flavor with this cinnamon spice for a cider. Warm and refreshing cider, 'Cinnful Apple' is the perfect choice for the colder months.
Feel nostalgia for the sun-kissed days of summer this February with this mango pale ale. This brew is perfect for cold, winter nights.
In the spirit of the love, all proceeds from 'Second Helping' are donated to the non-profit The Giving Kitchen. What's better than a good beer and a good cause?
The Love is an unfiltered wheat beer, also known as a Hefeweizen. It is distinguished by its extremely light body and fruity aroma, finished with spicy notes.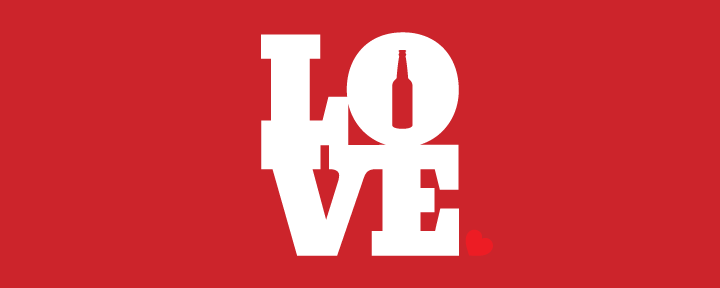 Hoppy Valentine's Day!
*image courtsey of Nick Carr [kegerator.com]