SweetWater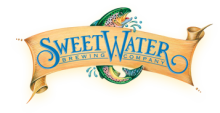 SweetWater's roots began back in Boulder, Colorado in the early 90's while Freddy Bensch and Kevin McNerney were roommates at the University of Colorado, Boulder. In the summer of 1996, the energy and action of the Olympics brought Freddy to Atlanta. He found this town in need of a West Coast style brewery and knew that he and Kevin were just the guys to turn the local brewing scene on its ear with the hoppy, aggressive ales they had been brewing for years.
As they were building their very own brewery, Freddy sought a little cool relief by kayaking down Sweetwater Creek, in a state park just west of the brewery. The name of the brewery became obvious and the motto "Don't Float the Mainstream" became the guide.
SweetWater Brewing Company has been in Midtown Atlanta since 2004. Their new home has enough capacity to brew 400,000 barrels of beer a year.