Schlafly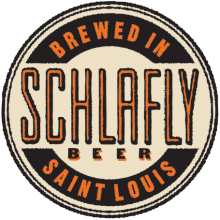 When they opened in 1991, they had no business plan beyond wanting to make great beer and food in a fun atmosphere and enjoy it with their community. To this day, their goals remain unchanged.
The Saint Louis Brewery™, maker of Schlafly Beer is proud to be Missouri's largest locally owned independent brewery. Each year, they brew over fifty unique styles of fresh beer, roughly half of which they bottle and half of which are exclusively available on draft at their two brewery-restaurants. They have a unique beer style for every beer lover, and hope you'll enjoy their selections at your favorite local stores, restaurants, and bars.
The Schlafly Tap Room in Downtown St. Louis first opened its doors in 1991 and holds the distinction of being the first new brewpub to open in Missouri since Prohibition. Housed in a beautifully restored wood and brick building on the National Historic Register, The Schlafly Tap Room enjoys a reputation as a casual, earthy place to drink, dine, listen to great live music, or host a special event.