Raspberry White Ale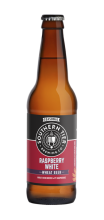 Southern Tier has long brewed a "locals only" beer dubbed Raspberry Wheat. Since their first batch, it has rarely been available outside the surrounding area of our brewery in Western NY State.
They've heard fan after fan clamor for wider distribution. The time is now.
Over the years, Southern Tier has fine-tuned thier house brew into a beautifully crisp & slightly sweet wheat beer brewed with malted barley, unmalted wheat & raspberry puree. Perfectly balanced, light bodied & raspberry tart, Raspberry White is ready to take on the world one bottle at a time.
ABV: 4.6%