Ninth Beer of Christmas 2018: SweetWater Festive Ale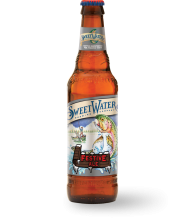 On the Ninth Day of Christmas, my brewer gave to me... SweetWater's Festive Ale!
Just in time for the holidays is this strong cheerfully spiced seasonal ale with big complex flavors to keep you warm and toasted all season long. Brewed only one day per year, this brew has a sleighload of Centennial and Golding hops which are kept from getting too overbearing by the delightful cinnamon and nutmeg accents.
You also pick up enticing notes of roasted malt, dark chocolate, caramel, and even toasted woods.
The Beer
Festive Ale is a Winter Warmer, which is a host of extremely grounded yet powerful flavors. This bold and full-flavored brew has more than a hint of spiciness, rounding out the caramel, toffee and chocolate notes with a walnut shell finish and vanilla finish.
The ABV is 8.1%.
Step back in time at the Historic Odessa's annual holiday celebration - a seasonal tradition of interpreting scenes from classic literature. This season our celebration lasts from November 14 through December 31, 2018.
This year's theme is based upon the classic novel, A Christmas Carol, In Prose, Being a Ghost Story of Christmas, by Charles Dickens. This special exhibit celebrates the 175th anniversary of the story first published in 1843. Be delighted with vignettes that include depictions of famous scenes from the novel in the Corbit Sharp House, c. 1774.