Ninth Beer of Christmas 2017: Schlafly Christmas Ale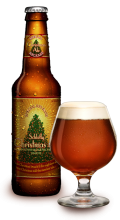 On the Ninth Day of Christmas, my brewer gave to me... Schlafly Christmas Ale!
This Christmas Ale is a warming winter ale that blends the spices of the season with a sweet caramel malt. Smooth and easy to drink, Schlafly Christmas Ale has a well-balanced scent and taste, with solid body.  
Around the holidays, the sweet and spicy aromas, not to mention the booze, in such libations tend to smooth the rougher edges of enjoying each other's company and spreading goodwill. If a friend asks you to describe how Christmas would taste in beer form, just hand him or her a Schlafly Christmas Ale! 
The Beer 
Caramel, Munich, Chocolate, Honey and Pale grains were combined with Magnum hops and American Ale yeast to create a bolder holiday beverage, reminisant of wassail and mulled wines. Orange peel, juniper berries, ginger root, cardamom and cloves are added for spiciness.
The ABV is 8.0%.
Step back in time at the Historic Odessa's annual holiday celebration - a seasonal tradition of interpreting scenes from classic literature. This season our celebration lasts from November 14 through December 31, 2017.
This year's theme is Clement Clark Moore's, A Visit From St. Nicholas. This delightful story published in 1822, often referred to as "Twas The Night Before Christmas", will be recreated again in the Wilson-Warner House, c. 1769.