Abbey Ale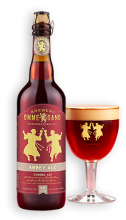 Abbey was Ommegang's first beer and was styled after Dubbels produced by Belgian Trappist monks. A deep, rich and malty ale, Abbey uses several Belgian specialty malts and spices resulting in a very aromatic, flavorful beer.
Deep burgundy in color, topped by a dense tan head, Abbey Ale is rich on the palate but with a dry finish. Suitable for cellaring, Abbey develops wonderful caramel, fig, and currant notes with age.
Abbey Ale with Food
Abbey is in a class of its own when it comes to food friendly beers. Rich, chewy and fruity, the dubbel mimics the palate sensations of drinking a big zinfandel or cabernet sauvignon. If you know these wines, you know Abbey. Its flavor profile perfectly complements charcutterie, game meats, linguini with cheese, meatballs, and red sauce.
And just like its grape relatives, Abbey Ale is amazing in the kitchen. Using it like a red wine in a Bolognese, with demi-glace and mushrooms for a sauce, or for marinating chicken - it works beautifully. Combine one part Abbey and two parts beef stock as an amazing base for French onion soup, or reduce with rosemary and some stock, mound it with butter and top a steak.