No-Li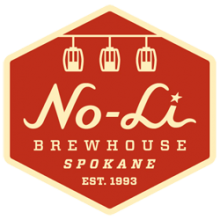 Back in the 1980s, when craft beer was still called microbrew or that weird hippy beer, Mark Irvin fell in love. First, as a military brat living with his family and getting a taste of the rich beer culture of Germany, then as a homebrewer, and then on to brewing for Coeur d'Alene Brewing and Hale's Ales, Mark fell head over heels for the art and science of brewing beer with character.
In 1993, after years of invaluable brewhouse experience, Mark decided to crack the top on his own small venture, Northern Lights Brewing Company, in his native Spokane. "I could have brewed in Seattle, but I never could have passed up the chance to brew in my hometown and create my own independent style," says Irvin.
After getting the silent treatment from another craft brewery on the East Coast that also had a claim on the name "Northern Lights," they decided to shorten Northern Lights to No-Li – which also makes a subtle nod to how they candidly brew their beers and run their business (no lie).