Lagunitas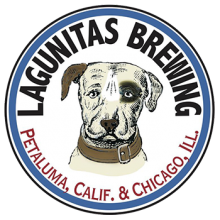 From points distant and beyond all converged on Petaluma in '93 and '94 with an unenunciated desire to be more than they were before. The core of Lagunitas came from Chicago, St Louis, Memphis, Walker Creek, and the highlands of Quincy.
The Chicago contingent initiated the brewing and the gravitational effect of its suchness did the rest. They all loved the beer but the mission was larger than the ordinary joy of a hoppy-sweet quaff. It was driven unseen by an urge to communicate with people, to find their diasporidic tribe, and to connect with other souls adrift on a culture that had lost its center and spun its inhabitants to the four winds to wander lost and bereft with a longing to re-enter the light. Beer, they have learned, has always been a good lubricant for social intercourse!
The Lagunitas Brewing Co. was not so much an act of ordinary 'foundling' as it was willed into being by the unspoken desire of supportive beer-lovers in Northern California after which they continued to nurture their creation and urged them forward to fulfill the unifying needs of that same beer-loving diaspora from coast to coast and beyond. It is good to have friends.