First Beer of Christmas 2019: Great Lakes Christmas Ale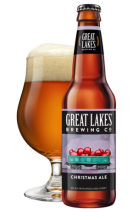 On the First Day of Christmas, my brewer gave to me... Great Lakes Christmas Ale!
When you taste this Christmas Ale, you think of the Holidays and the conviviality and warmth of the season. The beer is brewed with ginger, cinnamon and honey, and weighs in at a warming but gentle alcholic content. Smooth and clean finish, this Christmas Ale slips away until the next sip.
The Beer
Do not open 'til Christmas? Whoever coined that phrase obviously hasn't tasted Christmas Ale's fresh honey, cinnamon, and ginger flavors. A Yuletide's worth of holiday spices and sweet honey to keep you a-wassailing all season long.
The ABV is 7.5%.
Step back in time at the Historic Odessa's annual holiday celebration - a seasonal tradition of interpreting scenes from classic literature. This season our celebration lasts through December 31, 2019.
This year's theme is based upon the classic novel, The Secret Garden, written by the English novelist and playwright Frances Hodgson Burnet. Be delighted with vignettes that include depictions of famous scenes from the novel in the Corbit Sharp House, c. 1774. Rejuvenate your spirit this Christmas by touring this memorable exhibition.