Firestone Walker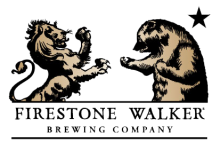 Firestone Walker Brewing Company makes award-winning ales in the classic English tradition using a unique linked-barrel fermentation system. Based on classic brewing traditions from Burton-Upon Trent, this bizarre and unlikely system of linked barrels has the ability to produce rich and complex ales.
Firestone Walker brewed its first beer in 1996 in a small facility rented from the Firestone Vineyard estate in Santa Barbara County. In 2001 owners Adam Firestone and David Walker purchased the SLO Brewing Company located in Paso Robles, CA.
Firestone Walker is a three-time Great American Beer Festival winner. The brew staff has picked up the "Mid Size Brewery of the Year" award at the World Beer Cup an unmatched four times. 
Funny how brothers
...settle things the old fashioned way. Try brothers-in law. Who own a brewery together. Adam, AKA The Bear, and David, AKA The Lion, may battle, epically at times, but at least neither ever forgets it's for the epic love of beer.
David Walker, The Lion
British expatriate and Adam's brother-in-law who brought a European twist to the proceedings. Together, they soon dreamed of building an unparalleled regional brewery, one that combined the authenticity of Old World craft with the innovative spirit of California.
Adam Firestone, The Bear
Growing up on the Central Coast surrounded by vineyards and winemaking, Adam's gravitation towards brewing started at an early age.  The brewing ideas all launched in converted wine making equipment – mostly with mixed results.  But the hook was set when the first recipe for Double Barrel Ale was attempted.  All that was needed to take this idea beyond a pipe dream was a partner.  Many were approached with the idea but none were interested.  That is until he persuaded one lone Englishman who happened to be married to his sister.
Matt Brynildson, The Brewmaster
Matt is excited about advancing the company's celebrated commitment to quality and innovation. "Our brewery is a cutting-edge facility, right down to the bottling line," he says. "This is enabling me to take Firestone Walker beers to the next level."