Cape May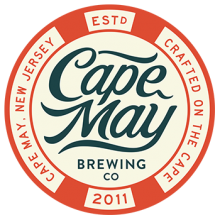 Cape May Brewing Company was founded in 2011 with a goal to provide South Jersey with fresh, delicious, local beer to put New Jersey on the map as a craft beer state.
Since then, Cape May Brewing Company has proudly brewed all their beers locally, crafting balanced and flavorful ales and lagers for thousands of happy locals and visitors.
Throughout the year, hundreds of their beers can be found throughout the South Jersey and Philadelphia areas. The Cape May Brewing Company are proud to self-distribute their beers to hundreds of bars, restaurants, and liquor stores, ensuring premium freshness and excellent service.