Tuckahoe Brewing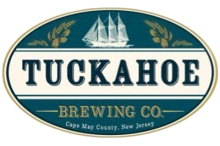 Tuckahoe Brewing Co. started with four friends Matt McDevitt, Chris Konicki, Tim Hanna, and Jim McAfee who started homebrewing together in 2005. In late 2009 they started to take seriously about opening their own brewery noticing a lack of breweries in their area. Tuckahoe Brewing Co was born in Cape May County. Since opening in 2010, they have since expanded and moved to Egg Harbor Township. 
The friends chose Cape May County "because of its history and scenic beauty primarily. We knew the water composition and quality would be good, so we looked for a location based on its proximity to recreational areas such as campgrounds and beaches."
Beer you can expect to find at Tuckahoe are IPA's, fruited kettle sours, red ales, pale ales, and porters. Their flagship beers include their Steelmantown Porter, New Brighton Coffee Stout, and their Angelsea Red Ale.
Tuckahoe Brewing Co. is one of the oldest breweries in New Jersey.