Rohrbach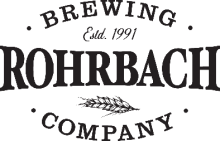 Founded in 1991 by John and Patty Urlaub, Rohrbach Brewing Co. is the first craft brewery in Rochester, NY. The brewing company takes its name from Rohrbach, Germany, a small town that inspired its founder to bring craft beer to Rochester.
The company first originated in the German House on Gregory Street, then grew into the two locations existing today – the brewery and beer hall in downtown Rochester on Railroad St. and the Buffalo Road Brewpub Restaurant in Gates.
Though the company has grown over the past 25 years, Rohrbachs has stayed true to its roots. From our old days of growler fills to today's consistent can releases, it's been a wild ride from the beginning to the recent craft beer boom. You can find Rohrbach beer in stores, restaurants, bars and sports arenas all over Rochester, Buffalo, Syracuse, and their surrounding Upstate NY areas.