River Horse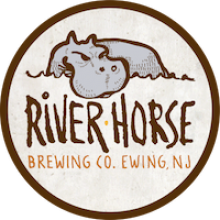 River Horse Brewing Company was founded in 1995 by two brothers in Lambertville, New Jersey. The brewery showed great promise for many years, but after a while, was in need of new leadership and a fresh branding strategy in order to hold ground in the ever competitive craft beer industry.
In 2007, friends and colleagues Chris Walsh and Glen Bernabeo came along and turned everything around. With their guidance, and a team of top notch brewers, River Horse Brewing Company is now one of New Jersey's top craft breweries.
To keep up with the rising demand, Chris and Glen moved River Horse to a much larger facility in Ewing, New Jersey, in 2013.
River Horse is known for its wide variety of beers and its generally unfiltered, bigger-bodied, bolder styles.