Paulaner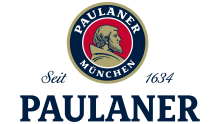 Gut, besser, Paulaner. – Good, better, Paulaner.
The popularity of Paulaner beer extends far beyond the city limits of Munich. Our great-tasting beer, highly skilled brewmasters, and the love for Bavarian tradition has made Paulaner a hit around the world. More than 2 million hectoliters leave our brewery each year – traveling from Munich-Langwied to over 70 countries.
Today, Paulaner is as much a part of Munich life as it was in 1634. Every year, Paulaner is one of only six breweries pouring beer at the Oktoberfest in Munich, and the annual Salvator tasting and Politiker Derblecken, where local politicians are roasted, remains a beloved Munich tradition.