Heavy Seas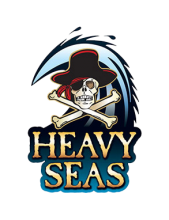 Heavy Seas Beer is brewed by Clipper City Brewing Company, in Baltimore, Maryland. The brewery was established by Hugh Sisson in 1995. Previously, Sisson operated Maryland's first brewpub, Sisson's.
The brewpub movement on the East Coast was in its infancy in the mid '80s, and Hugh was in the first wave of pioneers. Hugh, his father, and former Senator George Della, Jr., lobbied for a bill that legalized brewpubs in Maryland. In 1988, the bill was signed into law, and in '89, Sisson's became a Maryland's first brewpub, with Hugh at the helm as brewer.
Ultimately, Hugh was more intrigued by the beer business than the bar industry. In 1994, he left Sisson's to found Clipper City Brewing Co. In 2010, the brewery rebranded, putting all of its beers under the Heavy Seas banner.
Heavy Seas is about adventure, challenge, risk taking, rebellion, and an active lifestyle. Symbolizing a certain swagger, our pirate logo is the perfect metaphor and the ocean has always been one of man's greatest challenges and most inspiring adventures. Hugh loves people who have the courage and character to challenge what life has to offer, aware of the risks, and who embrace it anyway. Heavy Seas makes beers to celebrate both the people and their adventures.