Hardywood Park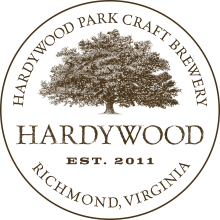 Hardywood Park Craft Brewery co-founders, Eric McKay and Patrick Murtaugh, were introduced at a young age through the friendship of their parents. Their families would vacation together so it wasn't long before the two would forge a strong friendship of their own. Years down the road, a well-timed meet-up at a sheep station in Australia, brought their passion for homebrewing and craft beer culture into sharp focus. It was there, at Hardywood Park, where they shared their first glass of full-flavored home-brewed beer.
That day inspired ten years of hard work and planning — Eric on the business side and Patrick on the brewing side — and brought their dream into reality with the launch of Hardywood Park Craft Brewery.
The Story
Hardywood officially began its mission to brew with purpose in late 2011 as one of only two craft breweries in the city of Richmond. Shortly thereafter, the brewery was honored to host the signing of SB 604, which allowed craft breweries to sell beer from their taprooms directly to consumers and paved the way for Richmond to earn its place as one of the top craft beer destinations in the world.
Today, Hardywood continues to develop and deliver on its mission with a sharp focus on brewing quality, sourcing local, environmental stewardship, community engagement, and giving back.