Eight & Sand Beer Co.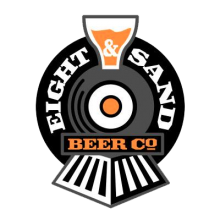 Founded by two buddies from South Jersey, Eight & Sand Beer Co. is fully devoted to quality craft beer brewed with patience, brewed with love, and brewed with local community in mind. Their styles of beer incorporate the old European styles with the new American ingredients.
Eight & Sand provides the local community with seasonals, one-offs and special releases only available at our brewery. They feature rotating taps in a tasting room, providing a different experience for every visit.
Eight & Sand has also made a commitment to their community to build a more sustainable brewery. Though small, they've opted to use environmentally friendly steam rather than direct fire burners to heat our 10 barrel brewhouse. Eight & Sand uses high-efficiency cleaning devices and a system that can recover and reuse our cleaning and sanitizing solutions. This will save about 16,000 therms of natural gas and 170,000 gallons of water over the next five years. In addition, they've installed a 26 kW solar panel array, which generates about 35,000 kWh of clean electricity every year. Over the life of their solar array Eight & Sand will eliminate more than 700 tons of carbon dioxide which is equivalent to planting over 17,000 trees! 
Eight & Sand's sustainability plan also includes sending their spent grain to local farmers instead of the landfill.