Dubuisson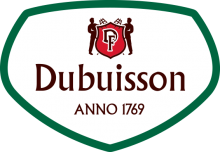 Brasserie Dubuisson was founded in 1769 by Joseph Leroy, an ancestor on the maternal side of the current owner, Hugues Dubuisson. 
The evolution of the brewery has increased considerably since 2000, thanks to the establishment of two microbreweries in Louvain-La-Neuve and Bergen and the opening of three establishments in Pipaix, Ath and Tournai.
Such growth requires large investments: fermentation, bottling, bottling line, storage for the barrels, a new warehouse, warm rooms, … In order to  growth and to evolve even further into the future, the Dubuisson Brewery completed an investment program in 2013 of more than 5 million euros.
The highlight was a brand new brewing room and an expansion of the fermentation capacity that doubled the production possibilities of the brewery to more than 100,000 hectoliters annually.
Over the past 6 years, the brewery has doubled its production from 45,000 hectoliters in 2013 to 90,000 hectoliters in 2018!