Devils Backbone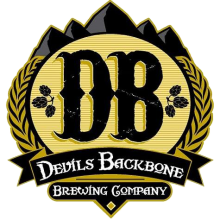 Opening its doors in 2008, the Devils Backbone Brewing Company took inspiration from the classic brewing traditions of Germany, England, and Belgium that brought vibrant new flavors and ideas to the world of beer. Devils Backbone utilizes traditional ingredients and processes for classically inspired beers as well as having the flexibility to use unconventional techniques and ingredients for more eclectic brews.
After becoming a regional success, Devils Backbone broke ground on the Outpost facility, in Lexington, Virginia. Originally projected to produce 10,000 barrels of beer in its first ten years, the Outpost produced almost 45,000 barrels in its first three, bringing world-class beer to people in Virginia, Maryland, and Washington D.C.
Thier mission is "to enrich our community by enhancing back porches, campfires, dinner tables, hiking summits, fishing boats, beach chairs, pig roasts, tailgates, crab feasts, ball games, ski lodges, strummin' sessions, and anywhere else you find yourself enjoying life."
The Devils Backbone Brewing Company has won several national titles, as well as regional titles, for their creative craft beers. View all their accolades »