Brick Works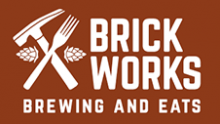 Brick Works Brewing & Eats was founded in 2016 by Eric Williams, Ryan Maloney, and Kevin Reading, Kent County Delaware Entrepreneurs. Focused on producing the highest quality beverages and menu items, the brewpub prides itself on utilizing locally sourced ingredients for both their beers and their foods.
For years, the partners spoke about working on a project together. But, the right opportunity had not presented itself. Shortly after fall of 2015, a property developer in Smyrna approached Reading with a restaurant location that could not be beat. Reading pitched the idea of a brewpub to Williams and Maloney, and Brick Works was soon formed.
The name Brick Works was chosen because Smyrna used to house a brick making factory. The idea of utilizing the location's former life as the name stuck out to the partners, as they wished to emulate the art and the craft comes along with laying bricks.
The Brick Works menu focuses on fusing local products together to form an integrated dining experience. Through the brewing and pairing of the right beers with the right food preparations in a warm atmosphere, the brewpub truly prides itself on presenting the best Delaware has to offer.