Braven Brewing Co.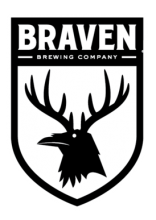 Braven celebrates those who are Bold & Crafty®.
The Braven is a chimera of two powerful beasts that embody the creative community. The bold buck horns represent the courage to dream daringly. The crafty raven is the talent to manifest concepts into reality. The shield defends creative endeavors from naysayers and doubters. Combined into a single sigil, the Braven emblem is the spirit animal of the creative process.
Braven's beers are available on draft in bars, restaurants, and growler shops and in 12 oz. bottles in grocery and package stores across New York City, Long Island, and Dutchess, Rockland, and Westchester Counties.
"Bold like a buck & Crafty like a raven."
Braven Brewing is based in Bushwick, Brooklyn, a former working class neighborhood that's been deemed the city's next Williamsburg. The brainchild of two close friends, Co-Founders Eric Feldman and Marshall Thompson came up with the idea for Braven, and brewing beer in general, when Marshall was getting his MBA and Eric needed a way to relieve the stress of practicing law.
Marshall and Eric got better, and as they perfected their craft, they became more serious about selling beer. Marshall came from a marketing and branding background, and he eventually started making logos and labels for their beers, all under the banner of East Village Brewing Company. "We were just having fun," Eric says, "these still weren't beers we thought we'd ever sell, but our friends and family were responding well to them, so we gained confidence."
Braven brewed their first batch on December 10, 2014.
In 2019, when Braven's brand came up for sale, the Newport Craft team jumped at the opportunity to help keep the brand, and specifically the Pilsner, alive and well. Today, you'll find the Bushwick Pilsner on tap in the Newport Craft Tasting Room and distributed throughout NYC.