Big Oyster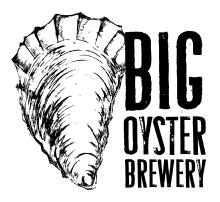 The original Oyster Stout wasn't a style of beer, but rather an expression. After a long shift on the docks you might have turned to a friend and asked,
"Care to grab an Oyster Stout?"
Big Oyster Brewery did not only embrace the age-old tradition of pairing beer with oysters, but sought to embody the feeling of camaraderie evoked by the expression. 
They brew a variety of high-quality craft beers including East Coast and West Coast IPAs, Bavarian and Belgian Wheat Beers, and German and American Lagers. The Big Oyster Brewery is located within Fins Ale House and Raw Bar in Rehoboth Beach, Delaware so that you can enjoy their brews straight out of the tanks, but they also provide their beers to Claws Seafood House - both restaurants located only a few minutes away in downtown Rehoboth.