Bear Republic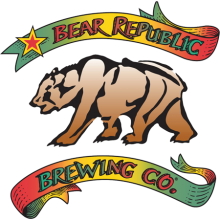 Located in the heart of wine country, on the corner of Healdsburg's historic downtown square, Bear Republic Brewing Company offers award-winning food and world class, handcrafted ales. Established in 1995 by third and fourth generation Sonoma County residents, the Norgrove family invites you to come and discover their diverse menu, family friendly atmosphere and more than 14 freshly brewed beers on tap.
Bear Republic's Factory Five Brewery in Cloverdale, CA
In 2006, we opened our Factory Five Brewery in Cloverdale, just 15 miles North of our original brewpub in Healdsburg. In 2016, Bear Republic was recognized by the Brewers Association as the 44th largest craft brewery in the United States.
Bear Republic beers are brewed and aged following their time tested and proven methods. They hand select only the choicest ingredients for each batch. The specialty grains and hops used by Bear Republic have been chosen for their unique characteristics. The recipes and their final formulations were developed over a period of several years. Those wonderful home brewing sessions and the lessons learned from trial and error have established the solid foundations for each recipe's commercial equivalents. It's their goal to continually develop new recipes using their time tested brewing methods. They work hard at fostering a sense of loyalty and tradition from eras gone by.
The team at Bear Republic is driven to bring you fresh, never-filtered, hand-crafted beer.
The daring and bold brews of Bear Republic have earned top honors in the American brewing industry. Racer 5 IPA® is one of the most award-winning beers in the USA. In 2006, Bear Republic won the Small Brewing Company and Brewmaster of the Year from the Great American Beer Festival®. Brewmaster Rich Norgrove likens this to winning the Daytona 500. To date, Bear Republic has won 22 medals from the Great American Beer Festival®. Additionally, they have won various medals from the World Beer Cup®, Good Food Awards™, The California State Fair, and many more.
Bear Republic has donated to various organizations in the North Bay, including Rotary, Boys & Girls Club, Kiwanis, Active 20-30 Club, Big Brothers Big Sisters, PTA, Special Education, the Little League, and small worthy groups locally.