Third Beer of Christmas 2019: Deschutes Jubelale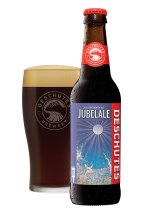 On the Third Day of Christmas, my brewer gave to me... Deschutes Brewery Jubelale!
This year marks the 32nd edition of Jubelale, even though Deschutes has only been open 31 years. That's because Jubelale was the first beer the brewery in Bend, Oregon, ever bottled, all the way back in October 1988. That first year, founder Gary Fish hand-bottled the beer at his small brewpub.
Since 1995, the label art for each vintage of Jubelale has been designed by a different regional artist and inspired by Oregon winters.
The Beer
This winter ale has a warm spiciness in a bold, complex flavor. The original 1988 recipe is still used, which is based on traditional malty English winter ales. The deep garnet color pairs perfectly with holiday celebrations.
The ABV is 6.7%.
Step back in time at the Historic Odessa's annual holiday celebration - a seasonal tradition of interpreting scenes from classic literature. This season our celebration lasts through December 31, 2019.
This year's theme is based upon the classic novel, The Secret Garden, written by the English novelist and playwright Frances Hodgson Burnet. Be delighted with vignettes that include depictions of famous scenes from the novel in the Corbit Sharp House, c. 1774. Rejuvenate your spirit this Christmas by touring this memorable exhibition.