Sixth Beer of Christmas 2017: Brooklyn Insulated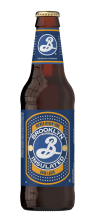 On the Sixth Day of Christmas, my brewer gave to me... Brooklyn Insulated!
Brooklyn Insulated dark lager is your protection against biting wind and soggy weather. This beer's taste is balance between sweet and dry roastiness, giving you hints of nuts, caramel, toffee and cocoa to round out the warm flavor. Try it with dark breads, hearty meats, and sturdy cheddars.
If you still feel the chill, just add another layer and enjoy your insulation.
The Beer 
The German Munich, roasted Carafa, and Pilsner malts create a nimble, racy body, while a helping of American black barley adds just a hint of roast coffee. A light dry hopping of American and German hops pitter-patters across the nose and dives into the dry, warming finish.
The ABV is 5.6%.
Step back in time at the Historic Odessa's annual holiday celebration - a seasonal tradition of interpreting scenes from classic literature. This season our celebration lasts from November 14 through December 31, 2017.
This year's theme is Clement Clark Moore's, A Visit From St. Nicholas. This delightful story published in 1822, often referred to as "Twas The Night Before Christmas", will be recreated again in the Wilson-Warner House, c. 1769.