Seventh Beer of Christmas 2018: Sly Fox Christmas Ale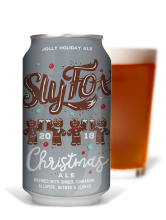 On the Seventh Day of Christmas, my brewer gave to me... Sly Fox Christmas Ale!
If this brew doesn't get you into the Christmas spirit, you truly are a Scrooge. Backed by holiday cheer, Sly Fox's annual Christmas Ale has expressive mulling spices which swirl and mingle with caramel malt. With one sip you'll know the holidays are here!
There's nothing better than getting together with loved ones and toasting season's greetings over a full-bodied, spiced ale.
The Beer
Christmas Ale is a Red Ale, which is more spicy than sugary. This malty, full-bodied ale is brewed with cinnamon chips, fresh ginger, nutmeg, allspice and cloves. The aroma, like the taste, is dominated by cinnamon right from the start. There's a hint of the nutmeg that comes through, as well as brown sugar again, with some nutty toasted grains coming through on the back end.
The ABV is 6.3%.
Step back in time at the Historic Odessa's annual holiday celebration - a seasonal tradition of interpreting scenes from classic literature. This season our celebration lasts from November 14 through December 31, 2018.
This year's theme is based upon the classic novel, A Christmas Carol, In Prose, Being a Ghost Story of Christmas, by Charles Dickens. This special exhibit celebrates the 175th anniversary of the story first published in 1843. Be delighted with vignettes that include depictions of famous scenes from the novel in the Corbit Sharp House, c. 1774.