Eighth Beer of Christmas 2018: Sixpoint Global Warmer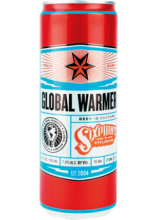 On the Eighth Day of Christmas, my brewer gave to me... Sixpoint's Global Warmer!
Global Warmer harnesses the natural deliciousness of beer's essential ingredients, in a raw, unfiltered formulation designed to beat back raging storm clouds. Toasted malt expresses rich depth, and a glint of brazen red, helps remind you this is a winter brew. It's a different sort of winter beer for a changing globe.
Unfortunately, Sixpoint Global Warmer is no longer being brewed, so you would be well-advised to grab a case or two if you chance upon it.
The Beer
Global Warmer is an American Amber Ale, which is characterized by big hop character and an ample, coating bitterness rushes the palate. Decidedly rich with a pronounced flavor of toasted malt, it's soft and complex, with notes of biscuit and toasted caramel component that makes it a thoroughly enjoyable Christmas beer.
The ABV is 7.0%.
Step back in time at the Historic Odessa's annual holiday celebration - a seasonal tradition of interpreting scenes from classic literature. This season our celebration lasts from November 14 through December 31, 2018.
This year's theme is based upon the classic novel, A Christmas Carol, In Prose, Being a Ghost Story of Christmas, by Charles Dickens. This special exhibit celebrates the 175th anniversary of the story first published in 1843. Be delighted with vignettes that include depictions of famous scenes from the novel in the Corbit Sharp House, c. 1774.