UDairy Ice Cream Truck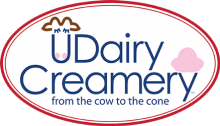 Educating students by producing and selling premium ice cream made from the milk off the farm of the College of Agriculture and Natural Resources at the University of Delaware.
Need to cool down in the summer heat? UDairy Creamery, which sells premium ice cream made by University of Delaware's Agriculture and Farm Department students, is the place to be. UDairy lives by the motto "From Cow to Cone," which means you get all-natural flavors in creamy, delicious ice cream. Choose from unique flavors like All Nighter (coffee with cookie dough) or classic vanilla, for a refreshing treat.