Sweet Dreams Confections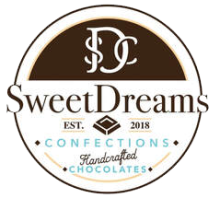 Sitting in the heart of the 1st State, the Sweet Dreams Confections Company (SDC) is Middletown's little chocolate shop. A family run business of hand crafted sweets, they are proud to serve their hometown. Their shop is located at One Shallcross Place in Middletown, DE. ​ If you can't make it to Middletown, you can visit their virtual shop through their website. 
It's important to warn you that the virtual shop has only a glimpse of what they have to offer in person.