Second Chance Ranch of DE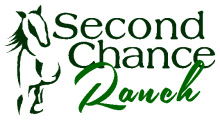 Second Chance Ranch is a 501 (C)(3) non-profit organization. We are dedicated to providing shelter, care, rehabilitation, and adoption services for abused, neglected and unwanted horses.
Second Chance Ranch is funded through individual donations and fund raisers. We have no paid employees only dedicated volunteers and devoted family members.