Rocker Soaps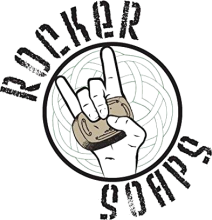 Rocker Soaps create Palm Free Soaps with skin loving oils. All products are in their natural color or dyed with roots and herbs. 
About Rocker Soaps
Rocker Soaps is dedicated to creating herbal skin and hair care products and earth-based remedies that nurture your body and mind.  Rocker Soaps does not and will never use any Palm oil, Sodium Laurel Sulfate, Chemical additives, Fragrance oils, nor any factory farmed animal products.  That's our promise.
About Rachel Binkley
When Rachel's first child was on the way in 2009, she decided it was time to make some serious changes in the health, beauty, and cleaning products she was using in her home.  After researching the available options, Rachel decided that most products were either too expensive, or they were "GreenWashed."  She began making her own natural cleansers and was thrilled with the results and happy to keep her home free of chemicals.  In 2014, Rachel had expanded her passion to include soaps, lotions, skincare, and then herbal tinctures and teas.  Rachel strives to make the highest quality products at an affordable price.