Major Flavor Seasonings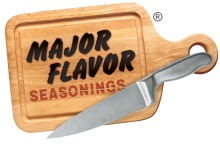 Emery Gholston is a home cook that began a journey for the quest for flavor without compromising the true essence of the dish.
FLAVOR SO GOOD, MAKE YOU WANNA SLAP YO NEIGHBOR! ™
His late grandmother looked at cooking and sewing as survival skills.  She told him, "boy you better learn how to cook and sew because you may end-up with a woman that can't cook or sew, and you will end-up eating a jelly sandwich with holes in your britches."  His passion for cooking started at the age of 6 years old when his late mother showed him the basic art of cooking and his grandmother gave him the opportunity to harness his new found skills. He went from making grilled cheese sandwiches to blackened salmon with risotto.  
His daughter and Emery made their first rub, Memphis BBQ Rub, which is special to his heart because this was the beginning of Major Flavor Seasonings.  With the support from his loving wife and daughter, Major Flavor Seasonings continued to provide their customers with bold flavors.
Their mission is to guide you on the quest on making flavor once again major, which is the most important part of a meal.  Seasonings are meant to enhance the flavor of the meal and not to cover it.  They can help you with rediscovering flavor in your meals. At Major Flavor Seasonings the flavor is always MAJOR. 
Major Flavor Seasonings is a family-owned company with a goal to provide bold flavors using only premium ingredients to enhance the flavor palate.  Their all natural gourmet spice blends will take you on journeys to create mouth watering recipes for various occasions and everyday meal plans.  
Their gourmet spices are:
All Natural
No Preservatives
No Additives
No MSG
Vegan Friendly
Bold Flavors