Crow Vineyard and Winery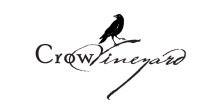 Crow Vineyard and Winery produces "new world" style wines from grapes in their own vineyard that are grown on rich mid-Delmarva soils from its 3rd generation farm. Their approach highlights the exceptional fruit grown, taking great care during the growing, harvesting, vinification and aging to showcase what their terroir can produce.
Crow Vineyard operation also includes a state-of-the art winery facility where they tank, barrel store, crush and bottle with their own equipment. The vineyard crushes and bottles our grapes and offer this service to other regional winemakers.