Twelfth Beer of Christmas 2018: Dogfish Head Pennsylvania Tuxedo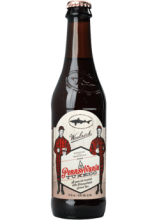 On the Twelfth Day of Christmas, my brewer gave to me... Dogfish Head's Pennsylvania Tuxedo!
Brewed in collaboration with family-run outdoor clothing company Woolrich, Pennsylvania Tuxedo is a sessionable concoction with a grassy citrus kick complemented by the resinous conifer notes of fresh green spruce tips. A dry yet doughy malt backbone lets the hops and spruce shine while still balancing out the bitterness, making this one an easy sipper.
Pennsylvania Tuxedo's complex flavors and spruce essence marry well with jarlesberg and sharp cheddar cheese. This brew also makes a terrific pairing with many seasonal meals, including smoked salmon, smoked meats, wild game, big crusty breads.
The Beer
Pennsylvania Tuxedo is a spruce-infused Pale Ale, which pays homage to the flannel-suited hunters and gatherers who dwell deep in the backcountry of north-central PA. This brew is a host of bold aromas and flavors of spruce, orange, and citrus zest, with balanced bitterness and a resiny finish.
The ABV is 8.5%.
Step back in time at the Historic Odessa's annual holiday celebration - a seasonal tradition of interpreting scenes from classic literature. This season our celebration lasts from November 14 through December 31, 2018.
This year's theme is based upon the classic novel, A Christmas Carol, In Prose, Being a Ghost Story of Christmas, by Charles Dickens. This special exhibit celebrates the 175th anniversary of the story first published in 1843. Be delighted with vignettes that include depictions of famous scenes from the novel in the Corbit Sharp House, c. 1774.