Tenth Beer of Christmas 2019: Finnegans Running With Axes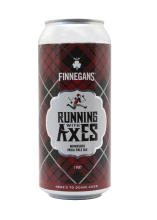 On the Tenth Day of Christmas, my brewer gave to me... Finnegans Running With Axes Pale Ale!
Running With Axes is a fresh hop pale ale brewed exclusively with Minnesota-grown Mighty Axe Hops. It's a classic pale ale with earthy, pine and citrus notes. Finnegans also donates 100 percent of profits to charities working to eliminate hunger. If that doesn't say Christmas spirit, we don't know what does. To top it off the label will match your most festive plaid Christmas jammies.
Once you go lumberjack, you never go lumberback.
The Beer
This India Pale Ale brewed exclusively with Minnesota grown Mighty Axe Hops and Maltwerks Malts. Running With Axes exhibits piney aroma with tangerine undertones. It pairs perfectly with steak and eggs, bacon cheeseburgers, grapefruit and avocado salad, and flannel.
The ABV is 6.8%.
Step back in time at the Historic Odessa's annual holiday celebration - a seasonal tradition of interpreting scenes from classic literature. This season our celebration lasts through December 31, 2019.
This year's theme is based upon the classic novel, The Secret Garden, written by the English novelist and playwright Frances Hodgson Burnet. Be delighted with vignettes that include depictions of famous scenes from the novel in the Corbit Sharp House, c. 1774. Rejuvenate your spirit this Christmas by touring this memorable exhibition.