Tenth Beer of Christmas 2017: Yards Tavern Spruce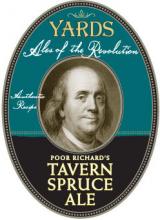 On the Tenth Day of Christmas, my brewer gave to me... Yards Tavern Spruce!
Based on Benjamin Franklin's original recipe, which called for barley, molasses and essence of spruce, Tavern Spruce is as approachable and engaging as the man himself. Yards sourced blue spruce clippings from a local organic farm, Indian Orchards, steeping them in the kettle to create this one-of-a-kind deep amber ale.
Tavern Spruce's complex flavors and spruce essence marry well with foods characterized by Asian and Mediterranean ingredients. Tavern Spruce also makes a terrific marinade for many dishes. Try it with rosemary-roasted pork tenderloin or noodle-based dishes, especially those featuring ginger or ingredients like basil and olives.
The Beer 
This English Strong Ale is smooth and subtle. The grainy, spicy aroma of the barley compliments the noble earthy, floral scent of the molasses and blue spruce. This old fashioned ale has a perfectly balanced taste of sweetness and spiciness, easily masking the alcohol flavor. Tavern Spruce is an exclusive historic ale offered by Yards, or rather Benjamin Franklin.
The ABV is 5.0%.
Step back in time at the Historic Odessa's annual holiday celebration - a seasonal tradition of interpreting scenes from classic literature. This season our celebration lasts from November 14 through December 31, 2017.
This year's theme is Clement Clark Moore's, A Visit From St. Nicholas. This delightful story published in 1822, often referred to as "Twas The Night Before Christmas", will be recreated again in the Wilson-Warner House, c. 1769.